I'm leaving for Spain tomorrow, and I'll be in Singapore after that to watch Wicked the Musical (which I am so so so so so so so so so so excited about you wouldn't even believe!), so I won't be home until around New Years time. I will still have internet access, at least while I'm in the hotels, so all the messages people send me on Facebook, or FG will definitely be replied, it's just that I'll need a bit of time.
And, seeing as I won't be home for Christmas, I decided to give out the presents now, lest I forget in the midst of my packing and being yelled at for not packing stuff correctly.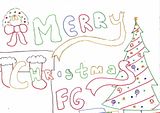 Seeing as I was late last year, I thought I'd be early this year. :DDD The rest of FG's Christmas pressie from me is in the Clips thread in Media. Right here.
http://forum.fangathering.com/viewtopic ... 5&start=15
Merry Christmas FG!